UNDER CONTRACT 4 Mill Creek Road Sparta 4BR Colonial with Incredible Backyard
Delight and awe family and friends with your new home at 4 Mill Creek Road--a 4-bedroom, 2.5 bathroom center hall Colonial with the unofficial best backyard in all of Sparta!
Located in the lovely Sparta Mountain Reserve, this fantastic home greets you with gorgeous landscaping including a boulder wall that winds around to this 1.19-acre property's crowning glory: the backyard. Deep and flat with a back section that opens up to the approximate size of a small soccer field, there's a horseshoe pit on the left, and on the right a bocce court rests next to the large fire pit area. Built-in lights employing underground electric and a 4-speaker stereo system resounding from the nearby utility shed complete the entire experience of outdoor fun for everyone.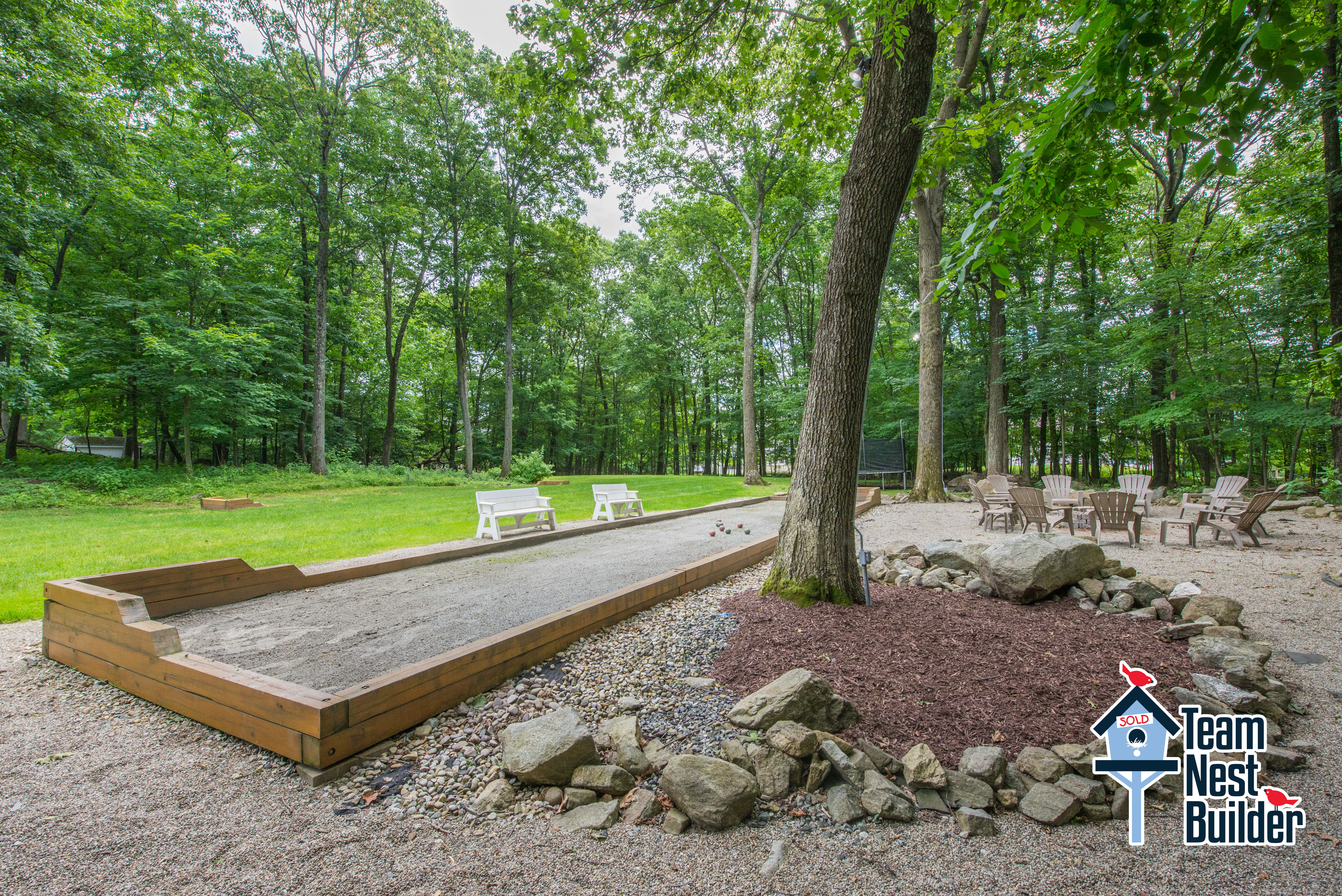 Overlooking the backyard is a huge, cedar, screened-in porch right off of the kitchen--great for year-round entertaining or a relaxing meal al fresco--and an open rear deck that's perfect for lounging in the sunshine.
Inside, discover the stunning kitchen with newer appliances and granite countertops. It flows into the breakfast area and spacious family room, complete with a wood-burning fireplace. Don't miss the new hardwood-laminate floors throughout these rooms!
The dining room is perfectly situated off of the kitchen and living room/game room, both rooms of which are finished with top-of-the-line Silhouette shades.
Lovely French doors open into the first floor office. There's even a first-floor bonus room to be used any way your heart desires---toy room, craft room, private teen hang-out space--it's up to you!
Upstairs, the gorgeous master bedroom boasts a huge walk-in closet. Double showerheads in the skylit master bathroom shower bring you to life in the morning or wash away your cares at the end of the day. Prefer a bath? Slip into the corner Kohler whirlpool tub. New granite countertops and sinks (both in the master and in the hall's full bathroom) complete this serene space.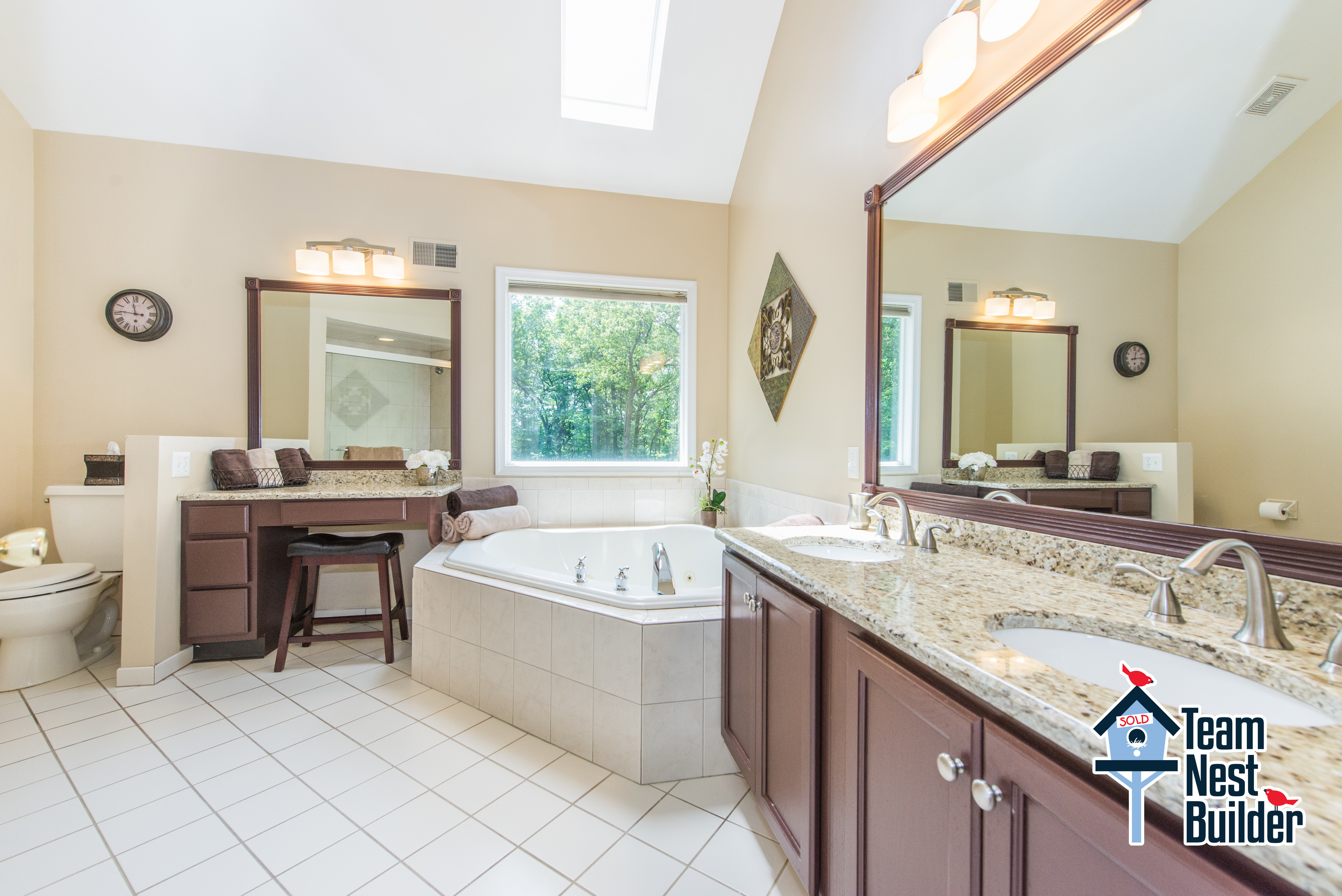 Sunlight softly fills the three additional, spacious bedrooms, and the laundry chute makes life a little easier. At nightfall, listen to the tree frogs and crickets quietly serenade you to sleep.
The large lower level is pre-plumbed for a bathroom and offers a hot tub-ready walk-out patio.
Updates include a brand-new furnace, driveway, front steps, front door, entry lights and window shutters; a newer AC system and hot water heater; and gutters routed to underground drainage away from the home. 4 Mill Creek Road is wired with an Onkyo sound system. A 3-car garage offers loads of space.
The friendly community of the Sparta Mountain Reserve lies within easy driving distance from Sparta's town center, meaning dining and entertainment options abound, and you'll be just minutes from the route 15 commuting corridor. New York City is only a little over an hour away by car. A NYC Bus is available from Sparta. Newark Airport and the Pocono Mountains in Pennsylvania average about an hour's drive as well. And don't forget the nearest ski slopes and water parks are only 20-30 minutes away in Vernon!
Like hiking? The nearby 1400-acre Sparta Mountain Wildlife Management area offers numerous trails for all levels of hiking, as well as Ryker Lake for kayaking, fishing and birding. Kittatinny Valley State Park is also a short drive away, boasting 5.2 miles of hiking trails with views of glacial lakes, limestone outcroppings and former railroads. Additionally, Kittatinny's Lake Aeroflex and Gardner's Pond are excellent for fishing and boating.
Sparta's fantastic school system provides wonderful educational opportunities. Sparta Middle School and Sparta High School are a short drive away. As one of 2018's top 100 safest towns in America (according to Safewise), Sparta offers peace of mind as well.
View the video tour HERE, and call Team Nest Builder's Lynn Garafola today at 973-222-3777 to arrange a private showing. Don't miss your chance--this dream home will move FAST!
Testimonials
" Lynn is honest, a true professional and a pleasure to work with. She has a great team working with her. Due to Lynn's great advice and extensive knowledge, she sold my home in two weeks. It has been a pleasure working with her. I HIGHLY recommend Lynn Garafola "
- user9042454 from Zillow
" Lynn and Glenn are truly the dynamic duo in the best sense of the word. They made our home buying experience totally pleasurable in that they took the time required to explain every facet of the home buying experience to us. Lynn's knowledge of the real estate market and its landscape is second to none. We visited many homes during our search and each time Lynn had expert knowledge of the area and she was always prepared with all the information we required. Do you need recommendations on who to call to do some work for you? Look no further than Lynn or Glenn who we think they are human rolodexes! What can I say, we were truly impressed. They say if you want to get something done, give it to someone that's busy - Well Lynn, Glenn, and their Team Nest Builder team, are exactly the kind of team you need to help you get into the house that you'll enjoy and love for years to come. They've found us our dream home and I'm sure that if we ever decide to move again, and they are still willing to take us as clients (I confess that I'm very picky?), we would be thrilled to have them get us our next dream home. Did I mention that they also rented out our former home in record time? Yes they did! Lynn scheduled some time with us and basically walked through the whole house and explained what we needed to do to get our former home rented. I had my tape recorder in-hand making sure not to miss anything she said. Cut long story short, we implemented everything that Lynn asked us to do. Lo and behold, we rented our home in less than a week with a well screened family that we really like. My wife and I wholeheartedly recommend Lynn, Glenn, and their team to anyone looking to experience professional and courteous service when buying a new home or renting one. Like AllState's slogan, You're in good hands with Lynn, Glenn and Team Nest Builder. "
- Chike Agu in Morristown NJ
" Lynn and her husband Glenn, helped us through the selling of a loved ones home that had many challenges associated with it. They kept us informed, gave us insightful recommendations, and were easily accessible. They were both very professional and gave a lot of themselves to ensure the sale. "
- gsuzzo from Zillow
" My wife and I interviewed 5 great agents when listing our house. While all were excellent, Lynn brought the marketing drive we felt would find the right buyer for our house in a competitive marketplace. Lynn and Team Nest Builder helped with all aspects of the sale process, including administrative follow up. Highly recommend! "
- timothy hayes9 from Zillow
" Lynn and Glenn were fantastic! They were thorough and informative through the entire process! I am thankful to have had such a positive experience while making such an important purchase! "
- Angela Deluccia
" Ms. Garafola represented my interests in a most difficult and trying residential lease. The property was partially upgraded to some extent but not to today's highest standards. Thus, renting the house without having to do a kitchen renovation was a major plus. Lynn handled the negotiations with the other agent and obtained the best possible rental amount. I am totally pleased and would certainly use her services again. "
- 6thFloorCondoForSale from Zillow
" My fiancé and I are still currently working with Lynn towards closing on our home. Out of all of the professionals we have dealt with thus far, her and her husband Glenn are the most reliable, quickest to respond, and first to fight for you when things are not being done in the best interest of their clients. I would highly recommend this dynamic duo for any prospective buyers or sellers. Wish us luck on our closing! "
- connokr from Zillow
" Lynn Garafola is an EXCELLENT, broker she is extremely knowledgable, professional, organized and tenacious. I had a unique situation, Lynn searched endlessly to help me find the perfect home to meet my needs. After months of searching, we found the perfect house in a great area. Lynn will guide you through every single step in the process. Although, Lynn has many clients she devotes so much time and energy to you that you feel like you are her only client. If you need a Realtor, whether you are buying or selling, you want to be represented by Lynn. Lynn works tirelessly and she will make sure you get the best deal!!! "
- Lecomi
" Lynn treats real estate as personal for those buying. We were being relocated across the U.S. and Lynn became part of the relocation team that enabled us to move into a great home in less than 60 days from offer acceptance. "
- bvpeterson50 from Zillow
" Lynn Garafola is SUPERB as a broker! She is so knowledgeable about the market, inventory and surrounding area that she is able to provide you with many options that meet your needs. She LISTENS to what you "must have" and "nice to have" and incorporates that into her search for you. And she continues to listen as you view homes so that she is able to refine the search as you continue your search. Lynn found the PERFECT home for me and my daughter and we couldn't be happier. You won't find a more professional, dedicated, honest, thoughtful Realtor in the business. Run, don't walk, to Lynn if you are buying or selling a home! "
- Bailey from Zillow
" Lynn and Glenn Garafola are a great team to work with! Their knowledge of the Morris are is vast. They are good listeners and patient to a fault. We are SO happy with our new home, and couldn't have gotten here without this fantastic team!! "
- Christine and Steve P.
" In 2001 we found just the house we wanted with Lynn's help--great location, perfect layout, and, as my husband requested: a vista! She found us a great lawyer and the transaction went off without a hitch. Over the years, if I needed to find a plumber or roofer or ... Lynn always was able to suggest a terrific resource. In 2016 when it was time for us to downsize and move on, Lynn helped us with every element of our sale, from finding someone to manage our estate sale to bringing in a terrific staging person to make sure that every room was shown to its best advantage to putting super professionally shot photos on the web. And we got our asking price, in record time--thanks to Lynn! "
- Kalle Weeks on Mar 23, 2017
" I was looking online for a home in the Hardyston, NJ area, and had selected a few "favorites". Lynn Garafola called me the next day, and we talked about what I was looking for. We set u; an appointment to meet, and she told me to be prepared to spend a few hours with her. She wasn't kidding. She had 26 properties for me to view. Each one came with a picture and all pertinent information. Lynn was easy to speak to, and made me feel completely comfortable from the beginning. As we went from house to house, she asked me what I liked and didn't like about each property so she could get a better idea of my likes and dislikes. She took me to a townhouse and the minute I walked into it, I knew it was my house. Lynn took care of EVERYTHING quickly and efficiently. I would recommend Lynn and her husband, Glenn, to everyone. "
- cheuvmom from Zillow
" Lynn and Glenn Garafola did a terrific job helping me purchase my new home in Sparta. My family and I moved from a house in Bergen county and I did not know alot about Sparta until I met Lynn and talked with her. I felt very confident through every stage of purchasing my new home because Lynn was able to give me a lot of information about each house we looked at. Even after the closing, Lynn has been very accessible and has answered many questions that I have had about the house and the area. I highly recommend Lynn and Glenn Garafola. "
- verbarg from Zillow
" I first met Lynn Garafola online while trolling the internet for homes in my price range and location. She was so helpful, even with a home I was selling with another realtor, that I decided to use her to help me find a home to purchase. Several months later, I have closed on my new home and the process was smooth thanks to Lynn's helpful advice, knowledge and recommendations. I would highly recommend her to someone looking to buy or sell a home. "
- user6278496 from Zillow
Previous
Next